March 3, 2011
It's gonna be Father/Son night at Occidental College tonight!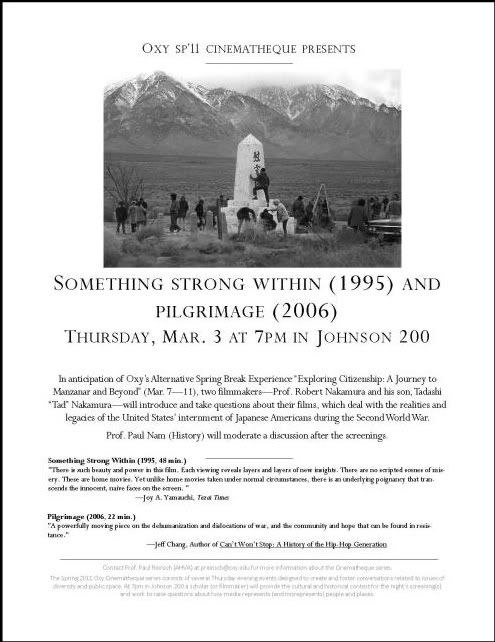 Like most of you, I run on inspiration. Inspiration to continue the work that is already being done and inspiration to dedicate more of my time and energy to strengthen the progressive movement that has been built. The wave of mass protests and uprisings in the Arab world and the stone-cold strength of the workers and allies in Wisconsin have reminded me that we are indeed living in a definitive moment of our generation. But just as I get empowered by watching thousands scream truth to power, the rage I get when watching something like this is also energizing, and in a way, inspiring.
Council on American-Islamic Relations (CAIR)
recently posted this video of an anti-Muslim rally at a fundraiser in Orange County on Feb. 13, 2011. To be blunt, the people in this video and the ignorant hate they spit is fucking disgusting. It's a trip to think that the day this video was shot, I was in Chicago participating in a Day of Remembrance event discussing the parallels between the WWII Japanese American experience and today's hateful environment.
VIDEO REMOVED FROM YOUTUBE BUT CAN BE VIEWED HERE
What got me so heated was seeing the faces of the parents walking with their kids. Those images hit home to everyone in a different way but I'm sure they hit hard. Like the people in this video, those who are under constant attack need to know we're here to jump-in and fight with them.